Ten Things I Hate About Me
by
Randa Abdel-Fattah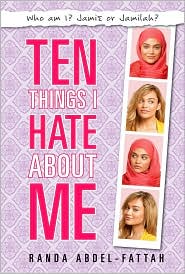 Now, I don't know that much about international publishing, but this just doesn't make sense.
Ten Things I Hate About Me
was published by Pan Macmillan in Australia in 2006. The audio was then published by Bolinda Audio (also an Australian company) in 2007. The US edition will
finally
be released by Orchard Books (an imprint of Scholastic) in January 2009.
That all makes sense. What I don't understand is why US libraries seem to be able to buy
audio books
from Bolinda (through Baker and Taylor), but not
books
from Pan Macmillan.
Anyone out there with insider knowledge?
Long story short, while I'd been waiting for the book to be published here, the book on CD had been sitting on the shelf at one of our other branches.
Like
Does My Head Look Big in This?
,
Ten Things I Hate About Me
is the story of a teenage girl of Muslim descent growing up in Australia and dealing with issues of cultural and individual identity.
Jamilah dies her hair blond and goes by Jamie at school to avoid the ridicule that other Muslim students face. Even her closest friends (who obviously aren't
that
close) have no idea about her Lebanese background. Only her e-mail friend, John, knows the truth about her family heritage.
Outside of school, however, Jamilah/Jamie attends Madrassa (Arabic school) and plays in a Lebanese band. When her band is asked to play at her school's spring formal... things start to spiral out of control.
Sometimes it seems like I'm saying this about every book that I enjoy, but the characters were well-developed (including the other family members, and friends). One of the things I liked best was that Jamilah was aware that by dyeing her hair and changing her name she was hiding her identity. (I've seen other novels where characters did something similar in order to fit in, but never saw their own actions as being representative of deeper issues). I also love the fact that both of Fattah's novels show a wide range of Muslim characters, even within the same family.
While it won't be availible here in
print
until January 2009, I definitely recommend
Ten Things I Hate About Me
to those who are interested in learning more about the culture of Lebanese Muslims in Australia -- or those who just enjoy a good teen romance.
Edited to add
: In my haste to post, I completely forgot to add a few "read-alikes" and other blog reveiws, so...
If you enjoy the e-correspondence between Jamilah and John, try:
The Year of Secret Assignments
by Jaclyn Moriarty
From e to you
by Chris D'Lacey and Linda Newbery
If you're interested in reading more about Muslim or Islamic culture, try:
Does My Head Look Big in This?
also by Randa Abdel Fattah
Persepolis
by Marjane Strapani
Kiffe Kiffe Tomorrow
by Faiza Guene
Ask me no questions
by Marina Budhos (I'm hesitant to recommend this one, since I haven't read it yet, but there are so few books on Muslim teens that I wanted to include it anyway)
Other blog reviews:
kissthebook
,
Lowly's Book Blog